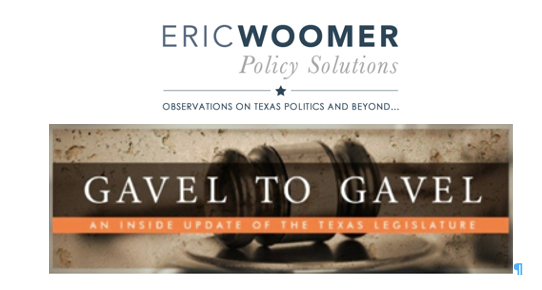 Week Ending February 19, 2021
This week was dominated by the severe weather that swept through Texas, nearly overwhelming the state's energy grid. Millions of Texans went days without power and/or water and only Friday did the Electric Reliability Council of Texas (ERCOT) announce an end to the emergency blackouts. Water, however, continues to be an issue. Cities across Texas have warned of dangerously low water levels and millions of Texans have received boil water notices. The infrastructural aftermath of the storm will take weeks or more to sort through, and Gov. Greg Abbott has called on the state legislature to prioritize preventing similar catastrophes in the future this session.
House Speaker Phelan called for a joint meeting of the Committees on State Affairs and Energy Resources to consider the factors that led to the statewide electrical blackouts. That meeting has been scheduled for Thursday, February 25. Senator Joan Huffman, Chairwoman of the Senate Jurisprudence Committee, also announced that the Committee will gather to investigate the legal responsibilities of ERCOT and the Public Utility Commission (PUC) of Texas. Sen. Kelly Hancock has also called a meeting of his Senate Business and Commerce Committee on February 25th. Additionally, Gov. Abbott provided an update Thursday wherein he announced that he will be requesting a Major Disaster Declaration from the White House and that he has added the mandatory winterization of Texas' power system and the requisite funding to his list of Emergency Items for this session. President Joe Biden has since said that he will be signing the disaster declaration and will visit Texas soon.
Reacting to the extreme weather conditions and responding to the suffering of millions of Texans is rightly the top priority of state government at the moment. However, the crisis has also dramatically affected the ability of the Legislature to conduct the public's business in the near term. The session is only twenty weeks long, and this week was essentially lost, as members and staff grappled with the crisis. To date, no bills have been referred to committee and no bill hearings are scheduled, which is considerably behind the typical timeline. Between COVID-19 and the weather disaster, not to mention the budget shortfall, the ability for the Legislature to conduct meaningful business is markedly compromised. Securing the passage of legislation – a daunting exercise under the best of circumstances – may prove to be beyond the feasibility of lawmakers for all but the most critical bills.
The Texas Legislative Council has extended the submission deadline for language drafting requests. Executive Director Jeff Archer asked that legislators submit their requests by 6:00 P.M. on Wednesday, February 24.
In other news, the Chairman of the House Appropriations Committee Greg Bonnen released Appropriations Subcommittee Assignments for the 87th Legislative Session. Remember also that the special election in House District 68 is on Tuesday, February 23. It is unclear whether the Governor will reschedule given that the early voting period was enveloped by the blackouts.
The COVID-19 vaccination process has been severely impacted by the storm, and last week's planned vaccine distribution to Texas was postponed due to the weather. The Department of State Health Services (DSHS) has announcedthat the state will receive 591,920 first doses of COVID-19 vaccine for the week of Feb. 22, to be distributed to 563 providers in 230 counties across Texas.
TEXAS HEADLINES
Governor Abbott Convenes Emergency Meeting To Address Spike In Texas Energy Bills
ERCOT will end emergency conditions today
White House Partially Approves Governor Abbott's Request For A Major Disaster Declaration
Texas students slammed again as storm scrambles already chaotic school year
Governor Abbott, TDEM Urge Texans To Submit Self Reporting Damage Survey
Texas Department of Insurance Publishes Storm Resources
ERCOT talks about when they knew, what they did, and why current standards failed the state this week
Governor Abbott, HHSC Waive Certain Regulations To Support Care Facilities' Response To Winter Weather
Texas gas prices rise as freeze pummels state's oil industry
Health Officials Alert Public to Carbon Monoxide Dangers
Governor Abbott, DSHS Suspend Regulations To Help Provide Meals To Texas Families
Winter storm and power outages delay vaccinations and reporting of coronavirus data
Unprecedented winter weather across the state adds to delays at the Texas Legislature
Energy crisis in Texas similar to Hurricane Katrina, oil and gas analyst says
President Joe Biden says he'll visit Texas soon and sign a major disaster order after a winter storm hammered the state
Texas Power Lobby Ranking 2021
Each session, Mike Hailey, publisher of Capitol Inside magazine, prepares his "Texas Lobby Power Rankings" of the lobbyists that most influence the legislative process. Eric has been listed each of the past five sessions, including this year. Thank you, Mike, for your coverage of the Texas Legislature and your recognition of the important role that lobbyists play in the legislative process.
Click on the image below for full coverage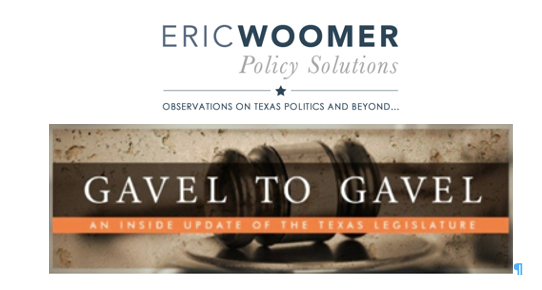 Week Ending February 12, 2021
Senate Finance Committee meetings commenced this week with updates from the Comptroller of Public Accounts (CPA) and the Legislative Budget Board (LBB) on the financial condition of the state. The Comptroller's presentation was largely a reiteration of his Biennial Revenue Estimate, but he did give us several important points to chew on:
$271 million that is constitutionally required to be dedicated to the state's Guaranteed College Tuition Plan, can be added back to his estimates of available spending as long as they are appropriated through the state budget.
While the CPA has a record of emergency federal funds flowing into the Texas through the State Treasury, estimates for funds going to smaller entities can only be extrapolations or "back of the envelope" calculations. He will be working to ascertain which entities receiving indeterminate federal funds may also be seeking state appropriations.
The Legislative Budget Board's presentation also revealed several key pieces of data for state budget-writers:
Due to the influx of COVID-19 funds, the Medicaid program may not require supplemental appropriations—the first time that's happened in years.
The LBB estimates that federal COVID-19 funds may also completely erase the CPA's projected $946 M deficit for 2020-21.
During the LBB's presentation, lawmakers expressed concerns about state agencies selling client data and that the resulting profits are not included in budget figures. Finance Chair Sen. Nelson requested that the LBB conduct a survey to ascertain which—if any—state agencies are involved.
More budget-related news: Lt. Governor Dan Patrick told the Texas Business Leadership Council that he wants to direct"the first $6 billion that we get from the federal government" to cover a shortfall in the Texas Unemployment Compensation Trust Fund, to hopefully avoid an unemployment insurance tax hike for businesses already stretched to their limits by COVID-19. He also threw cold water on proposed expansions of gambling in Texas, saying possible increases in state revenue were not sufficiently persuasive for him to support the effort.
In other news: The first House Appropriations Committee meeting will be held on Wednesday, February 17th. Some bittersweet clarity on the redistricting process, as the U.S. Census Bureau announced Friday that redistricting data will be delivered to all states by September 30, 2021—guaranteeing at least one special session. And remember that early votingfor the special election runoff in House District 68 begins on the 16th.
The Department of State Health Services (DSHS) announced that Texas will receive 407,650 first doses of COVID-19 next week, which will be distributed to 302 providers in 158 counties, including 85 large hub providers. Through the State Mobile Vaccine Pilot Program, Governor Greg Abbott and the Texas Department of Emergency Management (TDEM) announced the deployment of mobile vaccine teams to underserved counties. Additionally, the Governor stated that three FEMA-run mass vaccination sites are expected to open in underserved communities in Houston and Dallas-Fort Worth before the end of the month.
TEXAS HEADLINES
A sense of relief as Senate Finance begins to dig into Texas budget
Lt. Gov. Dan Patrick says upcoming bill would defend Texas energy sector from boycotts
Texas launches multimillion dollar campaign to combat vaccine hesitancy
Austin-area farmers, fearing 'grim' freeze, scramble to harvest, protect crops
Gov. Greg Abbott plans to relax business restrictions soon if COVID-19 numbers continue to drop from record highs
Online students won't have to take STAAR test, Texas Education Commissioner Morath says
Texas reports fewer than 9,000 people hospitalized for COVID-19 for the first time since December
Texas lawmakers push to switch immunization registry to opt-out after COVID-19 complications
Election Results and Summary: Primary Run-Off and Special Election in SD-14 July 14, 2020
Election Summary
TOP STORIES: Among the key races that received the most scrutiny, MJ Hegar narrowly prevailed in the closely-watched U.S. Senate Democratic Primary to take on longtime Republican U.S. Senator John Cornyn. Hegar was the front runner for much of the primary, and benefitted from her support from the traditional Democratic Party infrastructure and her fundraising prowess.
Meanwhile, former Travis Co. Judge Sarah Eckhardt and current State Rep. Eddie Rodriguez (both Democrats from Austin) appear to be headed to a runoff in the special election in State Senate District 14. The pair easily outdistanced their four other challengers to replace the retired Sen. Kirk Watson, whose term ends in 2022.
And although it would have been considered heresy a few short years ago, a recently released Dallas Morning News poll suggests that Texas is up for grabs. The poll indicates that former Vice President Joe Biden actually leads President Donald Trump by a five-point margin (48-43) among likely voters. The same poll suggests that Cornyn leads Hegar by a thirteen-point margin, but that's not a complete picture – Hegar should see a meaningful bump as Democrats coalesce around one candidate, meaning Cornyn could have a real race on his hands.
OTHER KEY RACES
Texas Senate
In the Democratic primary in Senate District 19, State Rep. Roland Gutierrez prevailed over Xochil Pena Rodriguez for the opportunity to challenge State Sen. Pete Flores in the general election. Sen. Flores, a Republican from Pleasanton, won the historically Democratic seat in a special election in 2018 with a great deal of support from Lieutenant Governor Dan Patrick, but if the Democrats have a big year, one could expect this seat to flip back.
In the Rio Grande Valley, in Senate District 27, State Senator Eddie Lucio was victorious in the runoff for the Democratic primary against newcomer Sarah Stapleton Barrera. The longtime state senator was forced into a runoff by a crowded field.
Despite his being a Democrat, Senator Lucio's victory is a significant win for the Senate's Republican governing majority led by Lt. Gov Patrick. Should Sen. Flores fail to retain Senate District 19, the partisan split in the Senate will drop to 18 Republicans and 13 Democrats. However, Sen. Lucio can frequently be counted on by the Republican leadership to support certain GOP priorities, and presumably Barrera would have been a more reliable Democratic vote. Typically, 19 votes are required in the Senate to pass legislation, and with the periodic defection of Senator Kel Seliger (R-Amarillo) on some issues, Gov. Patrick could find himself counting on Sen. Lucio more than ever to advance certain conservative causes.
Texas House of Representatives
Several closely watched races will affect the partisan balance of the Texas House. Among them:
House District 2 – Republican Primary: Incumbent Dan Flynn was ousted by conservative Bryan Slaton in this East Texas seat. Rep. Flynn was a chairman and a key ally of the GOP leadership. Slaton will likely promote a more conservative agenda.
House District 59 – Republican Primary: Incumbent J.D. Sheffield, a physician from Stephenville, was defeated by Shelby Slawson in one of the more high-profile contests. Rep. Sheffield was an avid supporter of the House of Medicine, particularly on immunization and vaccine issues, and has been targeted by the far right in recent years.
House District 60 – Republican Primary: In somewhat of a surprise, veterinarian Glenn Rogers of Graford defeated Jon Francis of Cisco in a bid to replace the retiring Rep. Mike Lang (R – Granbury). There is no Democratic opponent in the race. Both candidates have solid conservative credentials, but Francis is related by marriage to the Wilks Brothers, patriarchs of a billionaire family of staunch conservatives who dole out millions in financial support for far-right candidates and causes.
House District 138 – Democratic Primary: Houston area attorney Akilah Bacy topped Jennifer Rene Pool in the race to fill the seat left by retiring State Rep. Dwayne Bohac (R-Houston). Bacy will take on business owner Lacey Hull in the general election in November. This Houston-area seat could flip to the Democrats in the fall with a strong showing.
House District 142 – Democratic Primary: Longtime State Rep. Harold Dutton survived against Houston City Councilman Jerry Davis in one of the most bitterly contested races of the year. Rep. Dutton received a great deal of local criticism for his sponsorship of an education-related bill from several sessions ago, and was forced into a runoff by a "phantom" candidate, who finished third in the initial primary without mounting a campaign, and actually may be a truck driver in Colorado who never filed for the seat.
ANALYSIS
With the ballots now set for the fall general election contest, the question becomes: Will the Democrats capitalize on the historic circumstances facing the nation leading up to the 2020 elections? The challenges are well-documented – a global pandemic leaving more than 130,000 Americans dead, a COVID-ravaged economic landscape, and profound social unrest coupled to the "Black Lives Matter" movement. Meanwhile, Pres. Trump's disconnected response to all three tribulations leaves the Democrats well-positioned to build upon the historic "Blue Wave" they enjoyed in the 2018 midterm elections.
If the 2020 general election were held today, it is likely that Pres. Trump would face a momentous defeat at the hand of the presumptive Democratic nominee Biden. The U.S. House would probably become more Democratic as well, potentially adding to the 40-seat gain in 2018. And while most observers speculated early in the election cycle that the U.S. Senate would remain safely Republican, that would be a considerably more dangerous bet today. Even the Texas House could flip, assuming several key races fall the Democrats' way. All in all, Pres. Trump's declining approval rating, and a Democratic lead over Republicans in generic congressional and Texas State House polling, collectively spell big problems for the GOP in the fall.
With that said, the election is obviously NOT being held today. There are nearly four months ahead before the November general election – a lifetime in politics – and it is reasonable to predict that Pres. Trump can regain his footing, and assist his party down the ballot. If COVID-19 infections begin to slow and the U.S. economy meaningfully improves, and if Pres. Trump can develop a consistent and reassuring message to the American people, there is still plenty of time for the GOP ship to be righted.
We will be watching this final sprint to November closely, and will continue to report on developments as they occur.
Click here to view all the up to date results in more detail. As always, please let us know if you have any questions or comments.
January 28, 2020 Special Election Run-offs in House Districts 28, 100, and 148
The results are in for the special election run-offs in House Districts 28, 100, and 148.
A special election was held in three districts in Texas on Tuesday night. Most of the attention was concentrated on District 28 due to the impact that election could have on the majority in the Texas House.
Gary Gates (R-Rosenberg) won the District 28 seat vacated by Rep. John Zerwas (R) who retired after the 86thLegislative session. This win will most likely give Republicans confidence going into November with hopes of keeping their majority. The race drew national attention, with Joe Biden and Elizabeth Warren endorsing Democrat Eliz Markowitz, and significant resources being invested by both parties.
District 148 and District 100 have historically voted Democrat and last night that remained true, with results showing Anna Eastman (D-Houston) the winner in District 148 and Lorrain Birabil (D-Dallas) the winner of District 100.
RESULTS
House District 28
Vacated by John Zerwas (R-Richmond) who served 14 years in the House and was Chairman of the House Appropriations Committee.
Winner: Gary Gates (R-Rosenberg) – 17,457 votes (58.05%)
Elizabeth "Eliz" Markowitz (D-Katy) – 12,617 votes (41.95%)
House District 100
Vacated by Eric Johnson(D-Dallas) who became Mayor of Dallas.
Winner: Lorraine Birabil (D-Dallas) – 1,643 votes (66.28%)
James Armstrong III (D-Dallas) – 836 votes (33.72%)
House District 148
Vacated by Jessica Farrar (D-Houston) who served for 25 years in the House retired.
Winner: Anna Eastman (D-Houston) – 4,527 votes (65.47%)
Luis La Rotta (R-Houston) – 2,388 votes (34.53%)
With GOP Supermajority at Risk in 2020, Dan Patrick Says Texas Senate May Lower Threshold to Bring Bills to the Floor
Lt. Gov. Dan Patrick said he may seek to decrease the threshold required to move legislation in the Texas State Senate to a simple majority if Republicans lose one or two seats in November. Currently, 19 votes are required to put legislation on the floor for passage, but if Republicans lose Sen. Pete Flores, (R-Pleasanton) who is running for reelection in a historically Democratic district, Patrick said they may have to go to a simple majority of 16. He expressed confidence that Republicans will succeed in November, and that the party will keep the majority in the Senate. Democrats were very critical of this approach, believing it to erode the bi-partisan tradition of the Texas Senate. Changing the threshold requires a simple majority when senators vote to approve their rules at the start of every session. Read the full article here.
Texas Physicians Propose Mass Violence Prevention Strategies
Texas physicians laid out medicine's priorities before a special committee of the Texas House of Representatives late last week. The hearing was held in El Paso and featured testimony from Alan Tyroch, MD, Chair of Surgery at Texas Tech University Health Sciences Center El Paso who coordinated trauma care after the mass shooting in El Paso last year, and outlined TMA's eight recommendations for addressing mass violence. Dr. Joseph Penn, clinical professor of psychiatry at The University of Texas Medical Branch at Galveston (UTMB) and representing the Texas Society of Psychiatric Physicians also testified. Dr. Penn mentioned how mental health is not a predictor of and not the major factor in mass violence, and that the overall best predictor of future violence is past violence. Read the full article here.