Latest Twitter Updates:
Through legislation I passed last session, the Child Psychiatric Access Network helps young Texans facing mental health challenges. "When families turn to their primary care provider for help, the provider can then turn to CPAN for guidance and answers." https://t.co/b6z6jn48V1
Aqua Texas customers: Our 2.21 Morning Update, complete with updated chart on the status of systems we serve throughout Texas, along with known issues and boil advisories is available here: https://t.co/DhWFDMN4ob. Thank you for your patience during this time & please stay safe! https://t.co/kaqIlnnfrd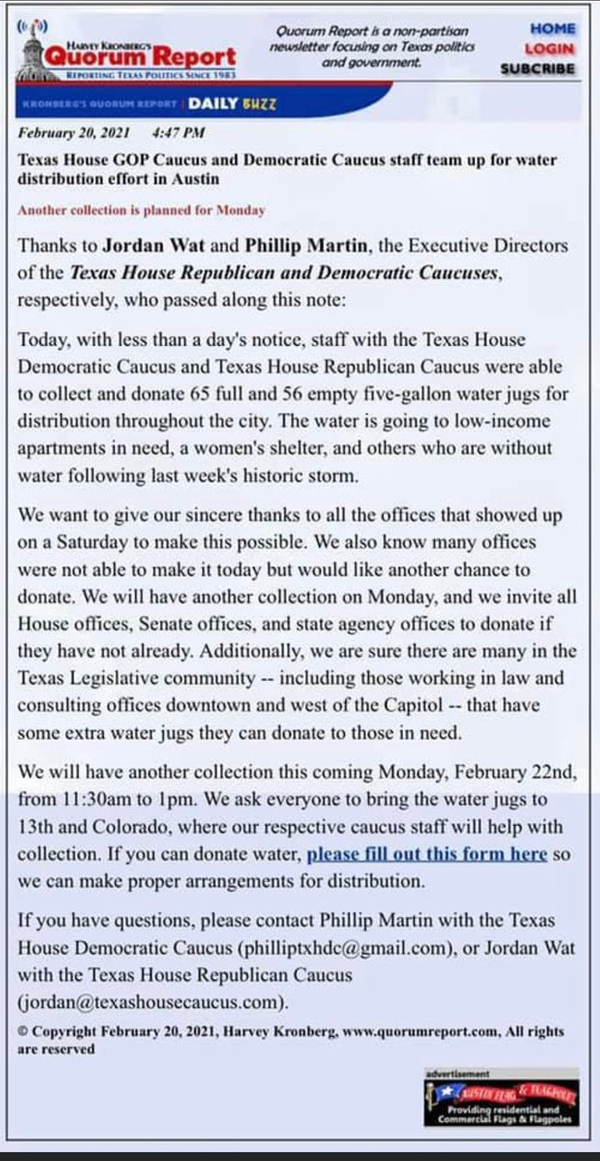 Glad to see Texas bipartisanship is alive and well, even in the face of statewide blackouts and worldwide pandemics! https://t.co/zWETgCWShj
OPUC has compiled a list of water distribution sites across the state where residential consumers who have lost water service can obtain drinking water. Today's sites can be viewed here: https://t.co/pvh77aPf8H https://t.co/AAGffnhu3t
No additional outages overnight, although a few generating units tripped. Energy consumption is much higher this morning compared to yesterday, but there is sufficient power to serve load over morning peak. Grid operator expects to come out of emergency conditions later today.
BREAKING: Austin citywide boil water notice has been issued. It comes due to power loss at The Ullrich Water Treatment Plant, Austin Water's largest water treatment facility.
Well... At least people are staying home and not going to super-spreader events.
We should be able to restore some customers this afternoon due to additional wind & solar output, & additional thermal generation that has told us they expect to become available. But, the amount we restore will depend on how much generation is actually able to come online.